SODIAMEX is a company which has been producing flexible ducting since 1969.
We manufacture and sell a vast array of flexible ducts for transporting gaseous fluids. Our goal is to satisfy our customers by offering a choice of solutions for transportation of gases, air ventilation systems, air conditioning and heating.
Aim
To be the best at the production of flexible ducting for the movement of air, granules and gases and to maintain our reputation for delivering quality products
Quality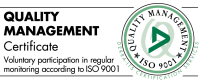 Sodiamex International's quality policy is to supply products and services which correspond exactly to the specification defined by our customers.
In order to achieve our goals, we work in close collaboration with our customers and suppliers and we commit ourselves to training all our staff to be fully competent in their tasks and to taking all the necessary measures to improve all aspects of our work environment.